Uncategorized
MarkBass – Portable Electric Bass Pre-Amp
On November 12, 2018 by rsproduction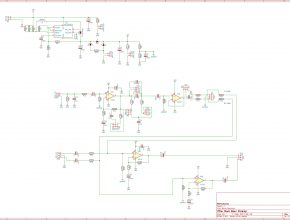 A friend of mine one day asked me … could you make a little portable bass-amp, with AUX
input in order to connect another device with its LINE output, such as a smartphone (to play
on something ..) or something else … maybe…could it be rechargeable?
I went to work trying to solve the "dilemma" on how to feed and recharge easily, perhaps
using a USB port of a common phone charger or a PC USB port …
On the page you will find the solution I found to build it.
The circuit is not very complicated despite having a section that takes care of charging the
9v battery in transistor format, a band pass and low pass filter section.
The pre can 't be used while the battery is being charged by usb, as the charging currents
fluctuates "enough" to introduce a noise into the device.
It can, however, be powered directly with a 9v DC power supply, connecting it to the
resistor pin R7 (+ 9v in the diagram).
The printed circuit was made using the well-known free KiCad software.
The realization of the card was made using a photopositive base with the classic
acid bath (ferric chloride) etching.
The card was then populated with the components and housed in a box metal with dimensions
100x100x40 mm.
If you are interested in the circuit or you want to have the pcb, don't hesitate to contact
me!